DYO BANNER HELPFUL HINTS TO SAVE YOU TIME!
Use a desktop (not mobile phone) to design your banner! Intermittent and slow internet connections will affect the speed and functionality of our builder. Print out 1st page only of these instructions for basics to guide you while you design your banner. (The full Design Studio Guide is below this.)
Once you click on your sport and then DYO banners, there are categories to the left and templates. We suggest you pick one that you generally like the background, the player, etc. Click on it to begin designing, then change the team name, player and coaches, the colors, the player, change/add clip art and have fun!. Below are some basics to get you started.
Once you click on a template you like and enter the DYO banner builder, answer the 4 questions and scroll down/choose the template you want to CUSTOMIZE/PERSONALIZE:
Don't forget to SAVE your design(s) periodically (top right)!
Once you click on a template, to the left, see these icons: SETTINGS, TEXT, ART (These are the basics.)
CHANGE TEXT: Click/highlight the text you want to change and use the pencil to edit or click on the TEXT icon to the left. You can add text, change font type, text color and size, border stroke thickness, text shape, text spacing, etc.
Tip: If you add an outline to font, you may want to use a contrasting color so lettering will stand out.
CHANGE BORDER: Go to SETTINGS icon. Change border color and thickness, etc.
CHANGE MAIN CHARACTER, BALLS, ADD CLIP ART: Go to ART icon. Use dropdown menu to select a different character or a different Baseball, Softball or Soccer player, change the ball(s) or upload a Major League BB logo, etc.
CHANGE COLORS: Click on image you want to change colors. Find existing jersey color (for ex) in colors on the left. Click on this color. Change the color. Click OK. Then find the existing sock color, click on it, change color, etc.
CHANGE ENTIRE BACKGROUND: Go to BACKGROUNDS bottom left. Then choose the category. So many options to theme your banner!.
USE TOOLS AT TOP TO FLIP IMAGES, CUT/PASTE, DUPLICATE, DELETE AND UNDO!
Click HERE or see below to view the Full Design Tool Guide.
If you can't find the design you want, please contact us and we will help you.
Our printers will not print true fluorescent colors, but we will do our best to print as bright as possible.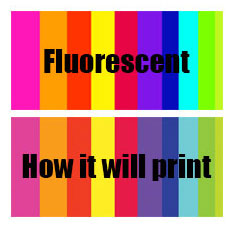 Clicking on the "Rectangle" icon opens a sub-menu palette offering the choice among two different options: Rectangle and Square drawing. clicking on these options will draw respective shape on the canvas.

Clicking on the "Ellipse" icon opens a sub-menu palette offering the choice among two different options: Ellipse and Circle drawing. clicking on these options will draw respective shape on the canvas.

Gives the option to draw a straight line and connect two objects by a line.

The "pencil tool" allows freehand drawing. The thickness and the color of the strokes could be changed using the "Color Palette" tools. To draw these shapes, position the cursor in the design area and drag to the size of the shape required. Once drawn, you can edit object properties like fill color, border style, and color settings, etc.

Layer Panel: Layers panel makes it easy to select any object and perform certain operations

Position it relatively with other objects at ease. Use up and down arrows to move the object up or down in layer order relative to other objects.
Show or hide the object in design area.
Lock or unlock the object. Locking an object makes it un-editable as well as immovable. You can unlock it again for further editing.

You can change each single color available in clipart from editing panel.

A clipart can be consisting of multiple layers. In order to change each constituent layer/part of clipart individually, click on ungroup button on clipart to ungroup its layers. You can go to the smallest individual layer of a clipart by pressing ungroup button required number of times. Once un-grouped, you can now select any constituent layer individually to change its color or edit it further with all available options in right pane. To group clipart again click group button.

You can select multiple objects by dragging your mouse over desired objects or by pressing "Shift" key and selecting desired objects.

Multiple selected objects are shown with dashed borders. Now you can edit common properties of these objects in one go e.g. color, border settings, position, size etc.

Safe Margin (green dotted line)
Text and other design elements must be placed within the safe zone. Placing them directly next to, or outside the safe zone will likely result in them being trimmed off in production.
Cur Margin (red dotted line)
To ensure that your background image covers the entire design space without leaving a white border, make sure that your design fully-extends to the full-bleed red cut margin.
Bleed Margin (black dotted line)
Extra space that will not be printed but user can utilise it for designing.

Add image allows the import of JPG, JPEG, PNG images from your local storage or from public image libraries from Picasa, Flickr and Instagram. Select the image upload option and add images to image gallery. Now, you can add any image from image gallery to design area by clicking on it. Now, you can further edit the image properties like size, positoin, rotation etc.

Supported Formats: JPEG, JPG, PNG

Optimal Resolution: 1500px x 1500px

Recommended Size: Less than 5 MB

You can fill the background with any solid color from color palette or apply background image from image gallery offered by store. You can even repeat same background image on all pages of the product in single click, or apply unique background for each page separately

Once your artwork is ready and you are ready to order, click on add to cat to proceed to checkout and pay.

Clicking on the color icon open a dialogue box which allows setting the filling color choosing it in a palette or specifying RGB or HSV coordinates.

SHIFT + CLICK

CLICK + DRAG

SHIFT(while resize)

To Select multiple objects

To Select multiple objects

To resize objects proportionally

In edit image pop-up, added a new tab for "Effects" using which user can apply image masks in different shapes; zoom in/out images and crop, apply image filters like sepia, black & white etc.

Pick color from design feature in color picker